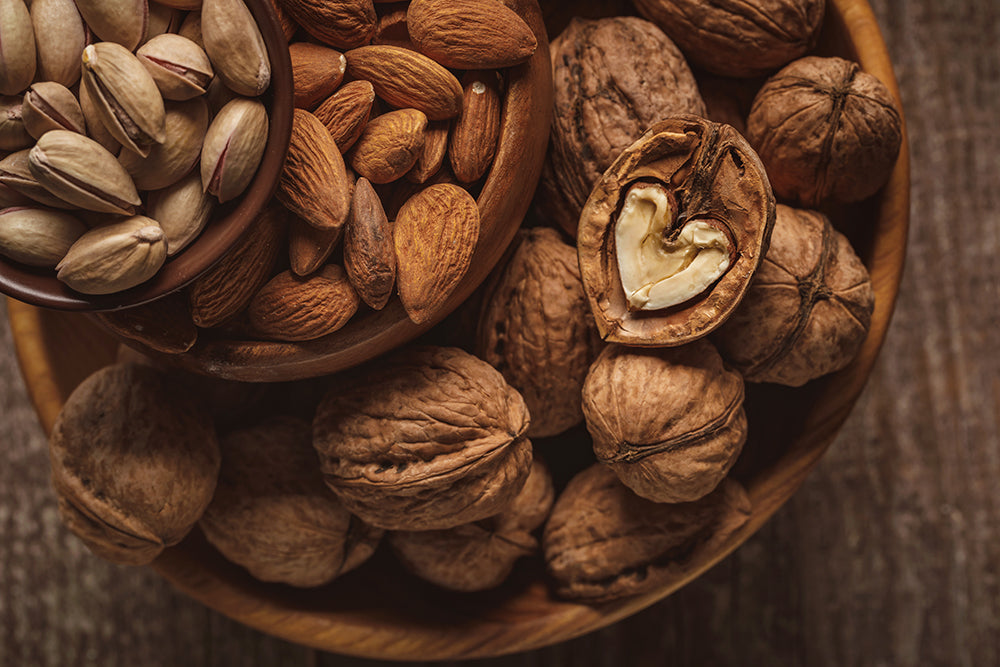 Who said diet requires painful deprivation and an empty stomach? And yet, the diet can become… enjoyable if you include nuts in your daily routine! Have you ever considered that a nut snack as part of a balanced diet can help you lose weight?
Modern science refutes exhausting and harsh diets as not only can they cause chronic physical or psychological problems in the body but also they do not give the desired results. The truth is that a healthy and beautiful body needs a proper and balanced diet in combination with frequent physical exercise.
However, if at this time you want to lose the extra pounds that concern you and follow a diet, below we have gathered for you the most useful tips for the most delicious diet with nuts! 
Do not miss the snacks
Yes, you read that right! Small meals in between main meals help us lose weight. To be precise, try to eat at least 5 meals a day. Frequent meals reduce the feeling of hunger. So in the main meals you will need smaller portions. In addition, frequent meals activate our metabolism so that we lose weight steadily and gradually in the right way. A good, albeit misunderstood, snack option is peanuts. It is better to prefer raw and unsalted shelled peanuts as they have the fewest calories compared to others. At the same time, it is rich in fiber which increases the feeling of satiety immediately and reduces hunger.
So when you want something to whet your appetite, do not deny yourself a delicious handful of pistachios.
Dinner in moderation
And το early in the evening! If you want to lose weight, you need to adopt an overall healthy plan in your daily routine. It is important to make sure you eat your last meal at least 2-3 hours before bedtime and it would be good to prefer something light. You can eat a salad with cottage cheese and nuts or low fat yogurt with nuts and dried fruits. If, after dinner, you want to eat something sweet, you do not need to be deprived of it. You can prepare cereal bars with nuts, honey and dark chocolate.
Rich breakfast
Unlike dinner, our breakfast should be a rich one full of nutrients that will help us cope with the rest of the day and give our body the energy it needs. Of course, especially when we are dieting we are not talking about exaggerations. Avoid fried eggs, cakes, croissants, etc. The ideal breakfast should be rich in protein, fiber and complex carbohydrates that will give us the "fuel" we need. Walnuts are a natural source of protein and fiber while they are rich in B vitamins and trace elements. It is a superfood suitable for any breakfast.
Tip: Try for breakfast porridge with almond milk, grated apple, honey, walnuts and almonds. It is delicious and everything you need for winter mornings.
Almonds
They are crunchy, delicious and fit everywhere! Almonds are one of the most popular nuts and certainly not by chance. A handful of almonds, contains 35% of the recommended daily intake of vitamin E. Vitamin E has a strong antioxidant effect and protects us from the premature signs of aging and some forms of cancer. Raw or cooked, they have a high nutritional value and are an ideal choice for all hours of the day. In a study in the inspection International Journal of Obesity, two groups of obese adults followed a low calorie diet for 6 months. The results showed that those who ate almonds lost more weight than those who ate complex carbohydrates.
We create great products, visit it eshop us and try the most delicious and tasty nuts!
Source: onmed.gr / iatronet.gr / mednutrition.gr / shape.gr