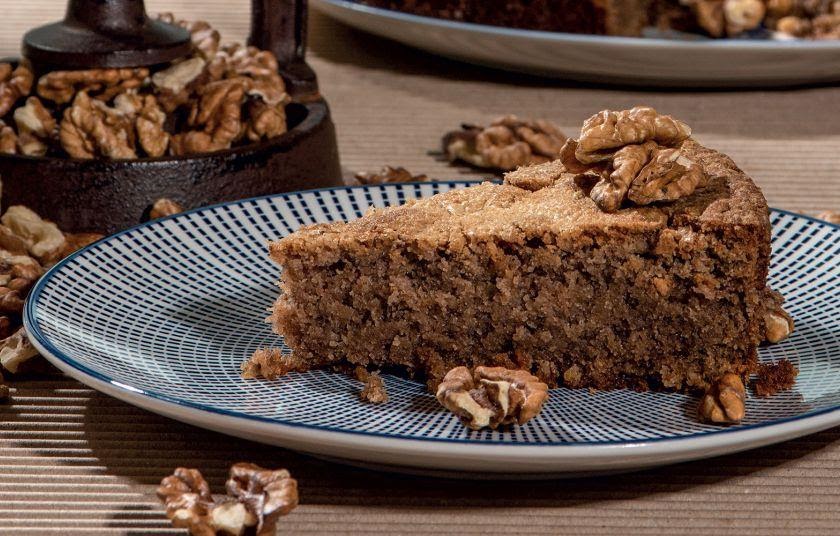 Servings: 12 Preparation: 30΄ + 1 night waiting Year: Bake for 1 hour Difficulty: Easy
It is not the traditional Greek walnut pie. First of all, it does not contain syrup or spices, such as cinnamon or cloves. The flour, the toast and the semolina are completely absent (it contains only a little corn flour) and the nut dominates. It is a delicious, rich dessert that we will enjoy with our coffee. We can give it a more festive feeling by serving each piece with a dessert spoon of our choice or with sour cherry syrup.
Materials
250 gr. cow butter, cut into small pieces

250 gr. powdered sugar

300 gr. walnut kernels

5 eggs

50 gr. corn flour
Procedure
Put the walnuts in the blender and grind them until they become as fine as possible.
Beat in the mixer, preferably with the feather, the butter, the icing and the grated walnut until they swell and become a whitish cream. We throw the eggs one by one. Once incorporated and become a homogeneous, fluffy mixture, stop beating, add the corn flour and mix with a rubber silicone spatula.
Cover the bottom of a shallow pan 24 cm in diameter with non-stick paper, empty the mixture and leave it in the fridge to rest for at least one night. This will help the mixture to "sit" for a while, to lose its air and not to swell awkwardly during baking.
The next day, bake it in a preheated oven at 160 C for 1 hour. Leave to cool and unmold.
Recipe: Stelios Parliaros | Photography: Alkis Kaloudis