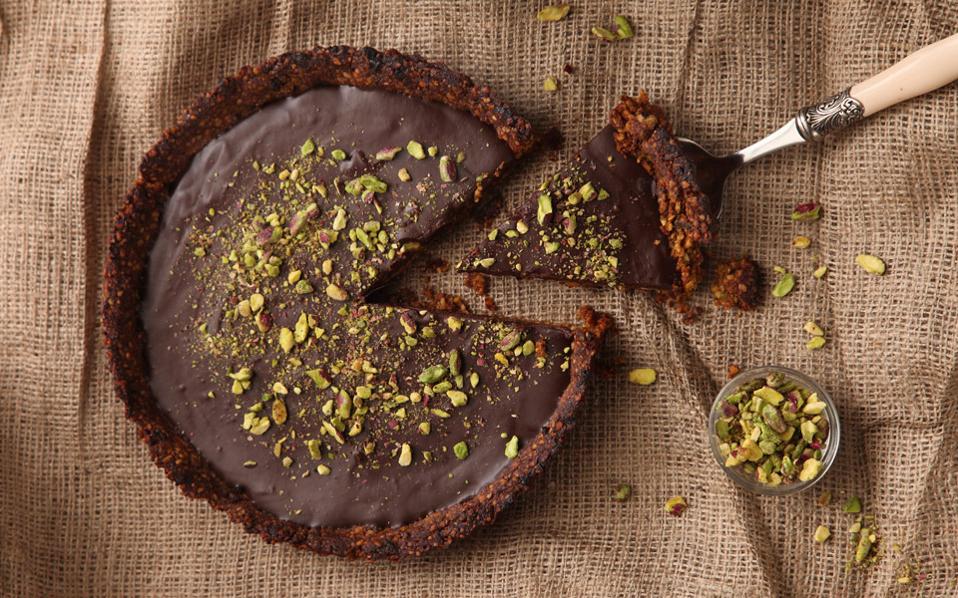 Preparation: 1 hour and 20΄, Stand by: 1 hour, Baking: 15΄
Ingredients (for 8 servings)
For the base
290 gr. almonds, grated into powder
150 gr. pistachios of Aegina, ground
60 gr. cow butter
140 gr. plums, finely chopped
For Ghana
300 gr. coconut milk
peel of unripe orange
2 gr. salt (in the nose of 1 teaspoon)
300 gr. couverture 50% - 55%, finely chopped
30 gr. sesame oil blonde or hazelnut oil or any nut oil
Procedure
Base
Sift the almond powder if we have rubbed it ourselves in the multi and we have not bought it ready.
Put all the ingredients in a strong blender until they are collected in a ball. Take the ball out of the blender, press it a little with your hands to make it flat and cover it with a film. Put it in the fridge for 1 hour.
Preheat the oven to 180 ° C and butter a tart tin with a diameter of 20 cm. Take the dough out of the fridge, put it between two sheets of oil paste and open it with a rolling pin on a sheet. Transfer the sheet to the tartiera, taking care to cover the bottom and the walls.
Cut with a knife any excess dough from the walls of the pan. Bake for 15 minutes.
Ghana
Put the milk with the orange peel and the salt in a saucepan and place it on a medium heat. When they get a boil, remove from the heat. Melt the couverture in a baking pan (in a stainless steel bowl attached to the mouth of a pot with a little boiling water).
Remove the orange peel from the milk and pour the milk into the melted chocolate.
Add the oil of your choice and homogenize with a hand blender. Let the ghana cool for 30 minutes and empty it into the base of the tart that we have already baked. Cool for a while and decorate the perimeter of the crust with blueberries.