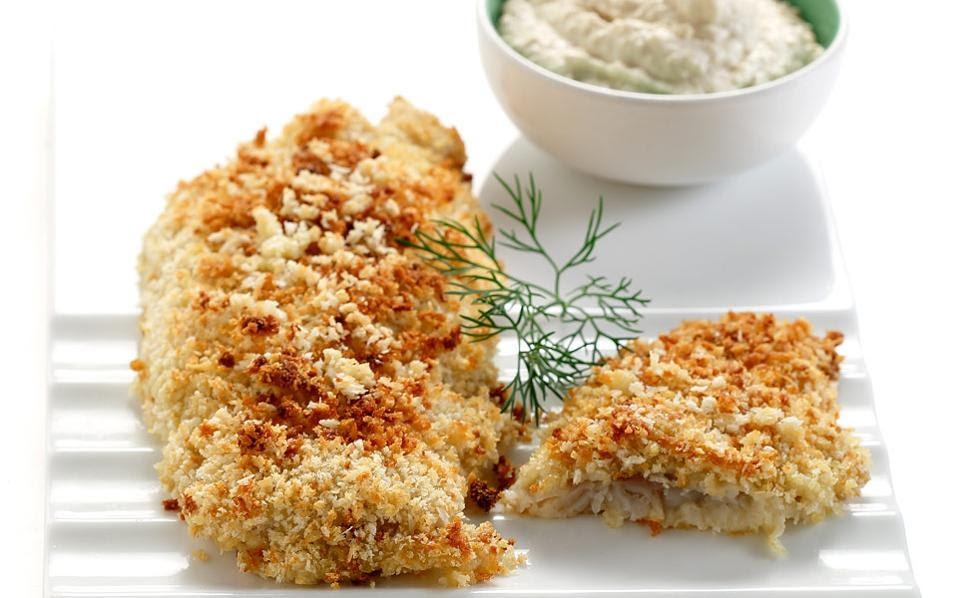 Moderate difficulty / Preparation: 20΄, Stand by: 24 - 36 hours (for salting), Baking: 15΄ - 20΄
Materials (for 6 people) 
1 kg salted cod fillet, well salted * and cut into 6 pieces
200 gr. breadcrumbs
80 gr. gruyere of Amfilochia, grated
60 ml olive oil
150 gr. soft mustard
salt, freshly ground pepper
For the "garlic"
200 gr. almond kernels
2 teaspoons soup white wine vinegar
220 gr. cow yogurt with 2% fat
2 cloves of garlic, peeled
50 ml olive oil
salt, freshly ground pepper

Procedure

Preheat the oven to 190 ° C and cover a shallow pan with oil paste.

In a bowl, mix the breadcrumbs, cheese, half the oil, salt and pepper. In another bowl, mix the remaining olive oil with the mustard, salt and pepper. 

Dip the cod pieces first in the mustard mixture and then in the toast mixture, turning them so that they are well covered.

Put them in the pan and bake for about 15-20 minutes, until the fish is cooked and forms a crispy crust.

For the "garlic": Beat all the ingredients in the multi for a few minutes, until they are mashed and homogenized. If the mixture is too thick, add 1-2 tablespoons. soup water.
Serve the cod with the "garlic".
* THE CALCULATION OF THE COD

Rinse the cod thoroughly under running water to remove the salt with which it is covered. Then we put it with the skin (if any) upwards in a large basin of cold water, where we leave it for at least 24 hours and up to 36 hours, depending on the quantity and how pickled it is.

We make sure that the cod is immersed in the water and for this reason we cover it with a heavy plate. Thus, it stays in the water and relaxes properly.

Every 4 - 6 hours or as often as possible we tilt the basin carefully, holding the plate, empty the water and fill with fresh water. To make sure that the cod has been salted properly, cut it into small pieces and boil it in a little water for a few minutes: the fish should have a tasty saltiness, but not rage.
Photo: GIORGOS DRAKOPOULOS Recipe: CHRISTOFOROS PESKIAS